Take home Buddy the Elf!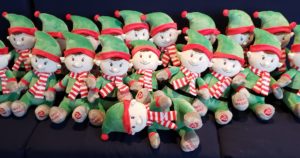 With your $100 or more in-person donation to #PersephoneTheatre you can bring home a Buddy the Elf stuffy or, if you choose, donate it to Ronald McDonald House to distribute.
Your gift creates opportunities for young people to be educated, entertained and inspired at Persephone Theatre.
•  $100 allows a family of 4 to attend a Youth Series show
•  $250 gifts an under-resourced child with a semester of Theatre School
•  $500 brings our Youth Tour to a remote community in Saskatchewan
•  $1000 provides a school with tickets to a Main Stage Student Matinee
Fill out the form in your program and drop off with our Front of House staff or stop by the Box Office and get your own Buddy! 
For more information on donating to Persephone, including monthly giving, please contact Shannon Richards at 306-384-2126 ext 238 or email shannon.r@persephonetheatre.org.
Persephone Theatre is a charitable not for profit arts organization. Donations of $20 or more are eligible for a charitable tax receipt.
Registered Charitable Tax # 11909 1437 RR000